South American starlet Libertad Leblanc!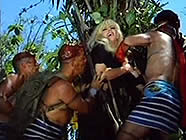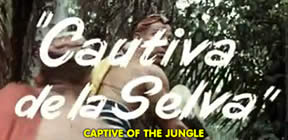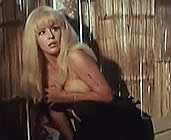 Original Argentinean/Spanish Title: CAUTIVA DE LA SELVA [Captive of the Jungle]
also known as JUNGLE CAPTIVE and SENSUAL JUNGLE

director: Leo Fleider
starring: Libertad Leblanc · Ricardo Bauleo · Gilberto Peyret · Mario Casado · Jorge Salceo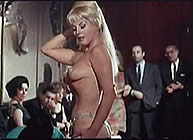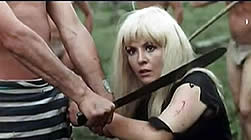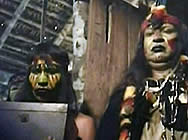 Laura is an internationally famous stripper performing at a nightclub in Buenos Aries. After her fortune-hunter boyfriend Albert is murdered, she inherits half a map to a treasure, buried somewhere in the Amazon. The other part of the map belongs to Albert's former associate Ivan, a geologist living in Brazil. She immediately hooks up with him. Although the quest will be very difficult, leading them into headhunter Aucas territory ["from which no white man has ever returned"], she convinces Ivan to accompany her by doling out sexual favors. The story soon escalates into an adventure of lust, passion and bloodshed which culminates in Laura's capture and forced participation in the 'sexual passage ceremony of new warriors.'
Libertad Leblanc was born Libertad María de los Ángeles Vichich Blanco in Argentia. She became Isabel (CARNE) Sarli's eternal rival throughout the '60s and '70s and was often called "La actriz más famosa de Sudamérica" [the most famous actress in South America]. Unlike Isabel Sarli who made all her films in Argentina, Miss Leblance shot movies with directors in Mexico, Brazil, Venezuela and, of course, Argentina. She is known for her platinum blond hair, alabaster-white skin and her perchance for playing delinquent women with an active libido. She retired in 1990 after 30 years in the cinematic spotlight.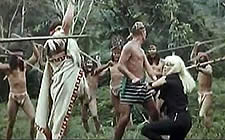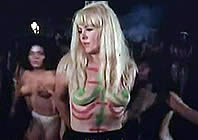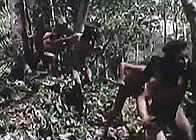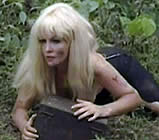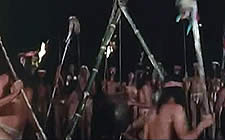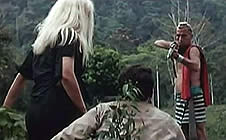 An Argentinean production in Spanish language with optional ON/OFF English subtitles;
fullscreen format (4:3), uncut (80 min.), DVD encoded for ALL REGION NTSC,
playable on any American machine. Extras include original trailer.