Fully Uncut Widescreen International English Print!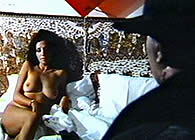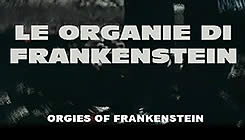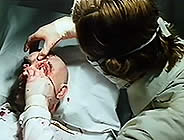 Original Italian Title: LE ORGANIE DI FRANKENSTEIN
also known as MOSAIC and FRANKENSTEIN '80 and MIDNIGHT HORROR

director: Mario Mancini
starring: John Richardson · Gordon Mitchell · Dalia Di Lazzaro (as Dalia Parker) · Xiro Papas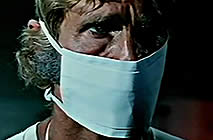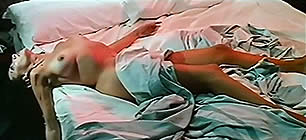 This film is a far cry from Mary Shelly's original Frankenstein concept. With its excessive sex and gore, this story about a lust-crazed monster-rapist is more closely in sync with other exploitative European projects (ie, FLESH FOR FRANKENSTEIN and Jess Franco's EROTIC RITES OF FRANKENSTEIN), but - please note - this is easily the trashiest of them all.
Inexplicably written by genre maestro Fernando Di Leo (as Ferdinando De Leone) shortly after directing the graphic shocker BEAST KILLS IN COLD BLOOD (Slaughter Hotel), before settling into his string of successful Euro crime thrillers (MILANO CALIBER 9, BOSS OF THE CITY, KILLER VS KILLERS, et al). Dr Otto Frankenstein is played by Gordon Mitchell and the film opens with his monster killing a prostitute and ripping out her heart [see pic below, left]. It's sorta nice that the creature is already functioning at the beginning of the movie so there's no half-hour wasted with tedious experiments. And it makes for a relatively simple plot. A kindly scientist, Professor Schwarz, has created a formula that will allow organs to adjust better after a transplant but the evil Dr. Frankenstein steals the serum so he can continue the ongoing tinkering his monstrosity named Mosaic who turns out to be a vicious rapist on a killing rampage.
Here is the only film directed by Mario Mancini, the accomplished cinematographer for such genre hits as GIRL IN ROOM 2A, LOVERS FROM THE TOMB (Nightmare Castle), FRENCH SEX MURDERS, KING OF KONG ISLAND, et al). John Richardson, playing reporter Karl Schein here, is a British actor who also acted in the excessive Giallo VICE WEARS BLACK HOSE and NINE GUESTS FOR A CRIME. He married Martine Beswick after starring with her in the Spaghetti Western JOHN THE BASTARD. Mr Richardson became disillusioned with acting in the early '80s and turned to photography where he has made a name for himself. John currently lives in an undisclosed location in the UK and refuses to conduct interviews about his film career.
Of special interest: This is the acting debut for future starlet Dalia Di Lazzaro (as Dalia Parker). A year later she would have a key role in the aforementioned FLESH FOR FRANKENSTEIN.