TWO MOVIES BASED ON THE SAME SCRIPT
EYE CREATURES AND INVASION OF THE SAUCER-MEN
TWO COMPETE FILMS ON ONE EXTENDED DVD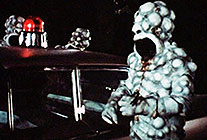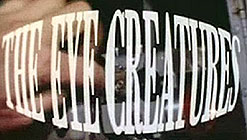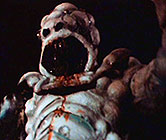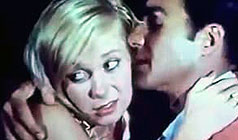 FILM ONE
THE EYE CREATURES (1965)
director: Larry Buchanan
starring: John Ashley · Cynthia Hull · Warren Hammack · Chet Davis · Donna Lindberg
Creatures from outer space invade a small town in the USA. John Ashley, playing Stan Kenyon, stars as a teenager attempting to elope with girlfriend Susan but their plans are dashed when they accidentally run over one of the aliens. They attempt to get help from the authorities; however the pleas from the teenagers fall on deaf ears, forcing them to gather their friends in an attempt to save the world.
This was John Ashley's last attempt to make it in Hollywood after a long line of "kids-in-trouble" melodramas, monster movies and in the Beach Party films. He decided to accept an offer from a studio in the Philippines and went there to make BRIDES OF BLOOD. Its success led to many more, including MAD DOCTOR OF BLOOD ISLAND, BEAST OF BLOOD and TWILIGHT PEOPLE and International popularity for Ashley. He died from a heart attack at age 62, October 1997.
This film is "Inspired by Invasion of the Saucer-men"  but it is actually shot from the same 1957 script and follows that script very closely, right down to a line about an automobile named after Elvis Presley.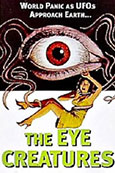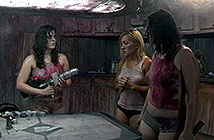 ___________________________________
FILM TWO
INVASION OF THE SAUCER-MEN (1957)
director: Edward L Cahn
starring: Steven Terrell · Gloria Castillo · Frank Gorshin · Ray Hatton · Lyn Osborn
This film is the original source for Larry Buchanan's Eye Creatures. In Great Britain, it was released as Invasion of the Hell Creatures (see ad below) and - quite surprisingly - rated as X [for adults]. The movie is based on a SciFI short story called Cosmic Frame by Paul W. Fairman.

The plot deals with a flying saucer landing in the woods near a teenager lover's lane hangout. One young couple, Johnny and Joan, are driving to the 'make-out' point with their headlights off [so they don't attract the attention of a local farmer] when they accidentally run down one of the roaming aliens.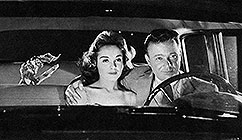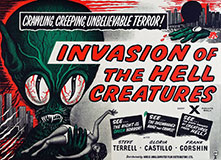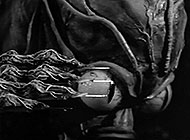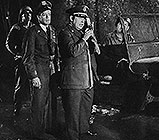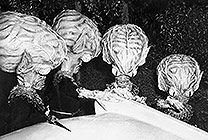 Two Complete movies in English language; fullscreen format (4:3), 80 & 70 minutes,
encoded for ALL REGION NTSC, playable on any American machine.