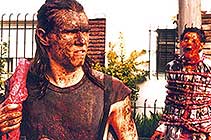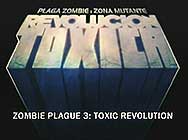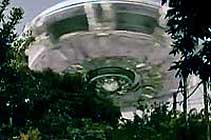 director: Parés · Hernán Sáez · Paulo Soria
starring: Hernan Saez · Pablo Pares · Berta Muñiz · Paulo Soria · Laura Casabe · Walter Cornas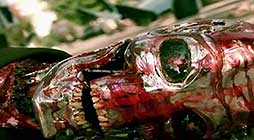 For this next installment of Argentinean zombi mayhem [preceded by PLAGA ZOMBIE 1 and 2], the team of three fighting superheros - Max, Bill and John - continue their war against the bloodthirsty zombies that invaded their hometown. For this episode, the situation has compounded when they discover the flesheating undead are actually puppets of an alien race that have no mercy on humans.
This long-awaited sequel starts exactly from the final moments of the previous one, with a bit more emphasis on the 'John West' character (Berta Muñiz), perhaps complicated by his real physical changes during the past decade. But the obvious problem must be addressed... the three directors are no longer youngsters (they were in their late teens while making the first film). They are now 20 years older. Some of the naive historanics which littered the first two endeavors have been replaced with a keener comprehension of the their craft. Essentially this is a more accessible production, concentrating on plot development than 'video-game' images.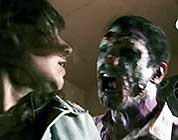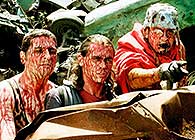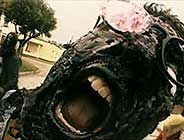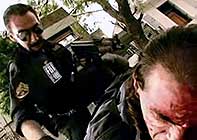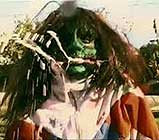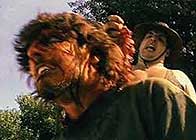 An Argentinean film in Spanish with optional ON/OFF English subtitles; widescreen (16:9),
uncut version at 91 minutes, encoded for ALL REGIONS NTSC,
playable on any American machine.
Extras include original theatrical Plaga Zombie trailers.

Strong Graphic Violence/Gore/Drugs/Sexual Situations
for Mature Audiences