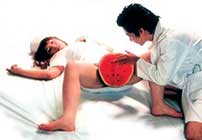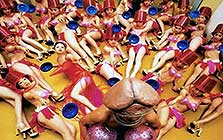 original Taiwan/Chinese title TIAN BIAN YI DUO YUN
[The Cloudy Side of Life]
aka WAYWARD WIND
also kown as WAYWARD CLOUDS

director: Tsai Ming-liang
starring: Lee Kang-sheng Lee · Chen Shiang-chyi · Lu Yi-Ching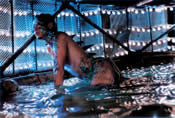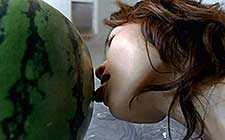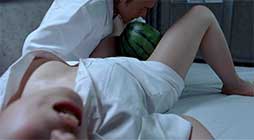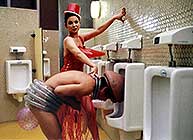 Yes, it's true. This film is not for everyone. Countless numbers of offended people walked out of showings in Film Festivals around the world. Visionary director Tsai is shaking up the "art crowd" with this perversely erotic - nearly pornographic - tale (featuring mindboggling musical numbers) of the porn industry in the near future.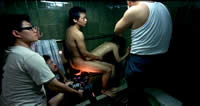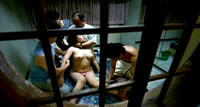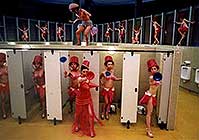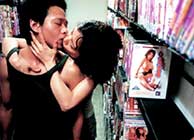 Hsiao-Kang works as an actor in low budget sex-films. Meanwhile, neighbor Shiang-chyi (and many others in the city) are hoarding bottles of water as they try to cope with a severe drought. The government recommends that people turn to watermelons to keep from dehydrating. The melons serve as an ongoing motif - as do more standard symbols like intersecting corridors - which bring people together but also keep them apart. Of course, this is a highbrow interpretation of the film. But don't be misled. It is also gritty, ugly and totally outrageous. The controversial ending - while profoundly beautiful - is perhaps the most disturbing footage ever produced in a commercial motion picture.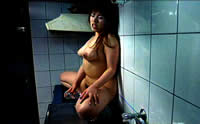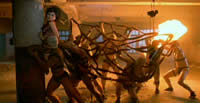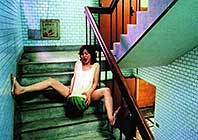 A Taiwanese import; widescreen (2.35:1), uncut (114 min.) version in DVD encoded for ALL REGIONS, playable on any American DVD machine; in Chinese language with English subtitles.

Strong Sexual Themes/Nudity/Sexual Brutality/Drugs/
Recommended for Mature Audiences Only